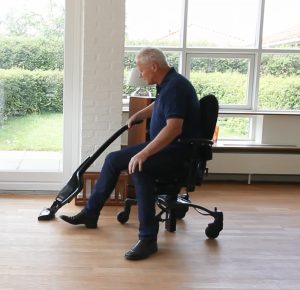 VELA are manufactures of the office style Hi-Lo seating solutions and have been promoting independence since 1935. Suitable for users Paediatrics through to Adults. The chair with a brake – Safety first! Suitable for users: Little People (LPUK). Osteogenesis Imperfecta (OI), Multiple Sclerosis (MS) Duchene's, Parkinson's etc.
Fully adaptable to offer optimum postural support if required. Replace the seat or back as the user grows, making VELA truly adaptable.
Suitable for Home, School & Work. Home – Inclusion with dining, food preparation. Independence to study. School – suitable for Primary school through to University (DSA) desking, inclusion. Makes Science & IT accessible and safe. Work – Postural solutions to ensure access to work (ATW) and independence. This could be Office or Industrial environments.

Chris Marshall – Country Manager UK
Tel: 07384 594882
Email: cpm@vela.co.uk
Web: www.vela.eu
Products
Chairs from VELA contributes to an easier day for people with disabilities. We offer ergonomic chairs, fitted for, e.g., specific work tasks, functions and for people with special needs. The chairs are easy to adjust and the ergonomic designs of e.g. seat, backrest, armrests and various accessories contributes to a safe and healthy work position.
Videos
Another way to learn about our products is by watching the videos below.
All-round Inspiration


VELA Tango 100ES


VELA Tango 510


VELA Tango Sit Stand


Downloads
Click on the images below to learn more about our seating range. These can also be downloaded as PDFs.
---
Where are we based?
Vermund Larsen UK Ltd
823 Salisbury House 29
Finsbury Circus
London
EC2M 5QQ
Connect with VELA

Join Disabled Living's Supplier Directory today!