KozyFozy Solutions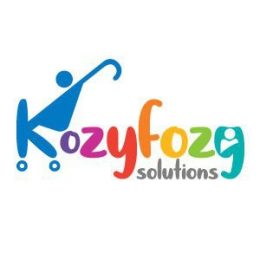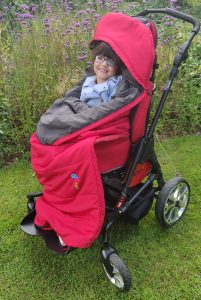 Welcome to KozyFozy Solutions. Based in Coventry, Kozyfozy Solutions is a family venture that looks to provide quality, protective covers for disabled children. Primarily used as wheelchair and pushchair liners, our Kozy Bags are high-quality products that can really change the lives of those that use them. It stops certain places or weather conditions being unreachable and makes every day an adventure! We work to provide our products across the UK, keeping your little one safe, dry, and comfortable, allowing them to enjoy the things they love without disruption!
My name is Sophie, I was inspired to design and create the 'kozybag' for my son, Zaid. We struggled to find a cover for his specialist pushchair that was big enough, durable, temperature controlled and water resistant. Not a small ask!
I decided to design and make him one myself, and KozyFozy Solutions was born. Our product is a 'Kozy bag' designed to keep you covered, warm, safe, and secure. We thought carefully about what a 'Kozy bag' would need..
It is water resistant, highly durable, comes with height adjustable Velcro straps to fit both large and small users. There are 8 harness holes to fit specialist pushchairs and wheelchairs alike. A two-way zip for escapee feet and a handy hood to hide in.
Why choose us?
We understand the emotional and physical needs of children and adults with disabilities. My son Zaid has Dravet Syndrome. A condition that affects his brain development and behaviour. His pushchair is his access to the world. He needed a cover that met his specific needs, when I realised there wasn't one, I knew I had to do something. Our bags come in green and red and have their own storage bag. They are machine washable at 40 degrees and light weight. You can order your 'Kozy bag' direct from our website with UK and worldwide shipping available. We are a new company, launched August 2019. Eager to reach out, help and support other children and adults to feel comfy and 'kozy'.
Tel: 024 7511 8805/ 07759 368770
Email: info@kozyfozy.co.uk
Website: www.kozyfozy.co.uk
Products
Have a look at our products below.
Videos
Highly recommend… I bought this bag for my 4.5 year old son and I am not disappointed. It's fits our special tomato pushchair perfectly with lots of room for growth, this will last for years. My son is now very cosy and protected from all elements when we are out and about. This bag would also suit a teenager or young adult in a wheelchair, it's fantastic. Also comes with a carry bag so when not in use it easy to carry the creator has thought this product through.
Excellent. It fits my 12 year old grandson perfectly with ample room for growth. He can have his feet out of the bag if his shoes are dirty and he is able to use his iPad while being completely hidden with the hood if he feels vulnerable. Easy to get him in and out too.
---
Where are we based?
KozyFozy Solutions,
Woodclose Avenue,
Coventry,
CV6 1HB
Connect with KozyFozy Solutions