Sterilight Robots

Sterilight Robots UVC Disinfection Robots offer an autonomous UV-C disinfection service using the Model X robot. We are specialists in UVC disinfection and sterilisation of surfaces and air.
The process is fast, and is overseen by a trained UV-C Robot specialist operator who will ensure that every area of your premises is exposed to the correct level of UV-C to eliminate any contamination.
Sterilight Robots manufacture each autonomous robot within the UK. We are proud to support the local economy, and to be part of the frontline in infection prevention and control to give confidence to the public that the premises they are entering has been disinfected by a specialist company.
Our UV-C Operators are able to give safety briefings and training, to make sure that you are happy with the process. For our specialist UV-C disinfection service we will provide the operator to setup the Model X autonomous UV-C robot and to provide verification following the disinfection.
To buy a Sterilight Robot Model X for your premises, or to book one of our UV-C operators to provide a disinfection with a UV-C robot, please contact us.
Tel: 0333 444 1968
Email: info@sterilightrobots.co.uk
Web: https://sterilightrobots.co.uk/
Videos
Downloads
Sterilight Robots General Brochure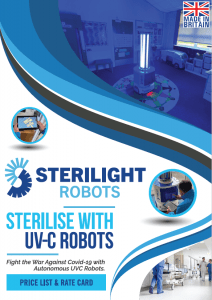 Where are we based?
Unit 24
Reddicap Trading Estate
Sutton Coldfield
B75 7BU