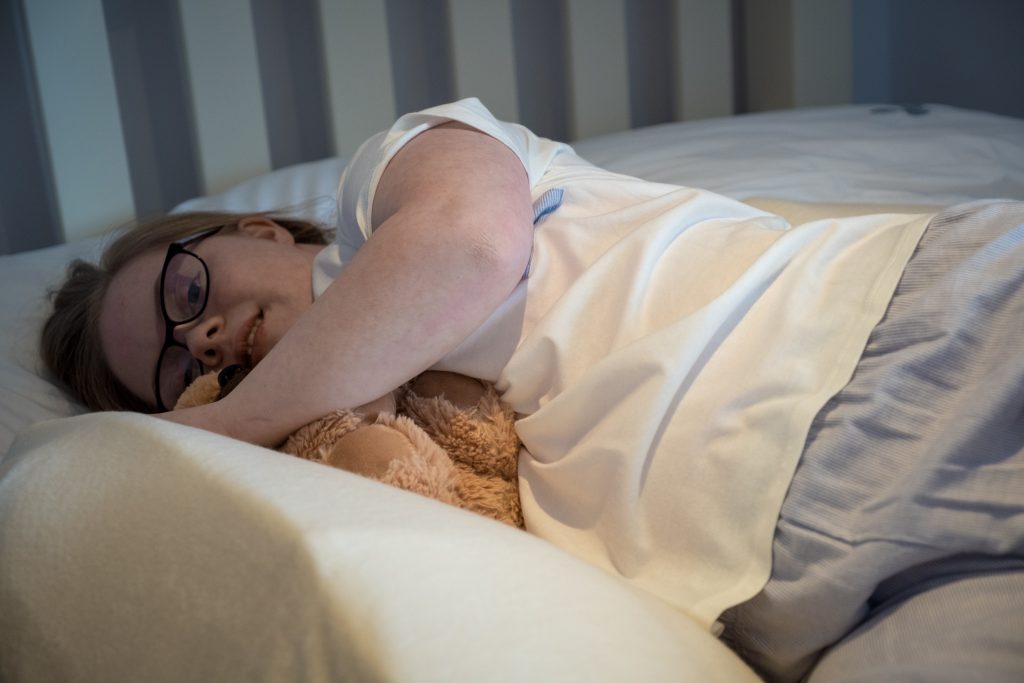 We are a family run organisation with a passion for protection of body shape. We are driven by our core family values of compassion, trust and dignity. Wherever you are in the world we can support you

.
Our equipment
Our award winning equipment is renowned for its simplicity, comfort and effectiveness. Winners of the British Healthcare Trades Association's Award for the Best Established Product on the British Healthcare Market our positioning system can be used to support children and adults alike. Our equipment is washable, soft and easily adjustable yet strong and secure offering support to everyone, even those with the most complex of muscle tone or movement. It is the only system on the market that has no screws, clips or fasteners and adjusting the support is a silent operation – something that we know is really important at 2am!
Our assessment services
You can be sure that when you approach us for a therapeutic positioning assessment you will be treated in a person centred manner, by a fully qualified advisor with years of research and knowledge underpinning their practice. Our advisors can visit you at home in collaboration with your Physiotherapist, Occupational Therapist or Community Nurse. An assessment usually takes around an hour and is completely free of charge with no obligation. You can book assessments through our friendly admin team on 01827 307870
Alternatively you can visit us in Tamworth, Staffordshire for a more in depth assessment and report with full measurement of body symmetry using The Goldsmith Indices. This takes around 2 hours and costs £250.
Our training services
In 2019 we are opening an accessible training venue. The Goldsmith Centre will be dedicated to providing training across a range of disciplines related to complex disability. Not only will we be delivering our award winning therapeutic positioning training, we will also have world renowned speakers delivering CPD accredited training in special seating, communication, mental wellbeing and sleep management to name but a few… make sure you get booked on early to take advantage of our early bird offers…

Tel: 01827 307870
Email: admin@simplestuffworks.co.uk
Web: www.simplestuffworks.co.uk
Products
You can view some of our products in the links below
Videos
therapy for children with complex needs


Measure Up!


Never Too Old


Sarah Clayton OT Show November 2016


Your support and attention throughout has been first class. We have been very impressed by the product and the excellent service we have received from Simple Stuff Works and would highly recommend you and your company.
The information given throughout the course is very detailed and made easy to
understand, even for somebody like me who is not a therapist. The need for 24-hour postural care
for certain people is very well explained and how to recognise if anybody needs it, is made
'simple' but above all very logical. I am very happy that I've done the course and I am sure it will
only add to my work from now onwards and I love how it is something that I can take with me.
Downloads
Click on the images below to learn more about our products. These can also be downloaded as PDFs.
---
Where are we based?
Unit A Meltex House
Kepler
Lichfield Rd Ind Est
Tamworth
Staffs
B79 7XE
Connect with Simple Stuff Works
Supplier Directory today!