Sandwell Deaf Community Association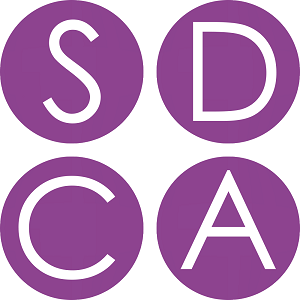 Sandwell Deaf Community Association (SDCA) is a registered charity that is led by Deaf people. SDCA delivers specialist services for Deaf People across Sandwell and the Black Country and also works in partnership with Sandwell Metropolitan Borough Council (SMBC) as a specialist service provider delivering services to deaf, deafened, hard or hearing and people with a dual sensory loss on behalf of SMBC.
SDCA emerged in 2003, following the initiative of a group of deaf people who approached the council about improving services for deaf people living in Sandwell.
SDCA has continued to grow and develop from small beginnings and we aim to actively encourage, empower and enrich the lives of deaf and hard of hearing people.
Our charitable objectives are the relief of deaf and hearing-impaired persons in Sandwell, West Midlands and the surrounding area in particular but not exclusively by:
The education and raising awareness and understanding of the public with regards to the needs of such persons;
The provision of services to help deaf and hearing persons;
The provision or assistance in the provision of opportunities for education, recreation and other leisure time facilities to such persons in the interest of social welfare;
Establishing a community centre for such persons to promote social, community and educational activity.
We currently offer a variety of services such as Support Service which supports local deaf and hard of people to live independently and achieve their aims and ambitions, Advocacy Service with a deaf advocate to ensure that people's rights are upheld on a variety of issues, Training department which provides bespoke an accredited British Sign Language and Deaf Awareness courses, and a Communication Service sourcing British Sign Language Interpreters for service providers to communicate with their deaf service users.
We also host a number of social clubs for various groups to reduce the isolation already experienced by this marginalised community. We currently offer a Deaf Women's Group, Hard of Hearing Group, Deafblind Group, Youth Group, Weekly social club and a playscheme that runs throughout various school holidays.
Address
Summer Street
West Bromwich
West Midlands
B71 4JA
Contact Us
Tel: 0121 553 0201
Email: info@sdca.co.uk
Website: www.sdca.co.uk
Follow Us