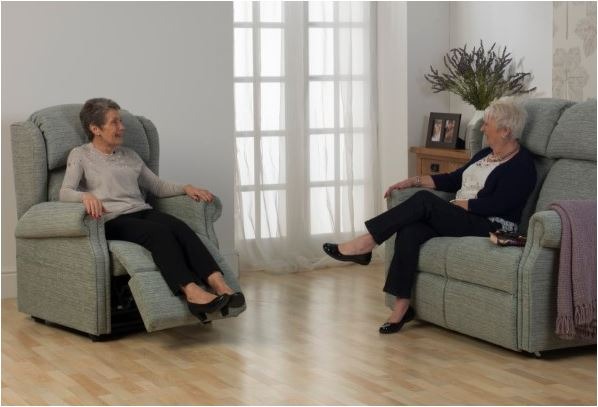 Repose Furniture Limited is a West Midlands based run business that has been helping and servicing the needs of the healthcare and mobility industry for over 20 years. Repose was established in 1999 and with the current team together boast over 60 years in the design and manufacture of bespoke furniture. These expertise has enabled Repose to deliver both affordable and unique high-quality seating to our entire customer base.
Lisa Wardley, Managing Director has been expanding the company over the past 17 years and is a key part of the Prism Healthcare group, a UK wide provider of specialist equipment. Lisa is proud of the bespoke chairs that Repose Furniture has designed and the comfort that has been delivered to thousands of people each year with quality as one of the key priorities. Lisa truly believes in British made, high quality, value for money and great service, and ensures this is what the customer receives when they choose Repose Furniture.
We design, manufacture and supply highly engineered seating solutions for family homes, hospitals, care homes and many other environments through an extensive network nationally and abroad. We pride ourselves on quality, not only our service but also for the components we use to manufacturer our furniture. The sourced components come from reliable trustworthy companies, meeting all the British guidelines they need to meet and we source over 95% of all our components from British companies, making sure we support the trading of businesses in the United Kingdom, giving a truly made in Britain product of the highest quality.
When you choose Repose Furniture Limited you are choosing a quality product that is built to last and is built to fit you. Our trained, friendly team will ensure that when you visit our showroom you are made to feel welcome during your assessment where you will be measured, and your needs discussed. This means that you will receive a bespoke product that is perfect for you. If your condition is likely to change this can also be discussed during the assessment as products that can change with you may be an option that you would like to consider. At the end of the assessment an no obligation quote will be prepared and posted to you for you to look at with your family at a time to suit you. There will be no pressure to buy and you will not be inundated with sales calls.

Tel: 01384 567401
Email: info@reposefurniture.co.uk
Web: www.reposefurniture.com
Products
Here are some images of our products.
Videos
Another way to learn our furniture is by watching the links below, so that you can see demonstrations of the products being used.


Repose – The Perfect Rise and Recline Chair



Protac SenSit



The Henley



Boston Rise and Recline


I ordered a Repose recliner chair, it is exceedingly comfortable and has been much admired by my friends and family. My wife then decided that we should throw out an old sofa and buy a Repose two-seater sofa to match my chair, which we subsequently did. The Repose Sofa has now arrived, and my wife is really pleased with it!
It was without a doubt the best customer service we have had in any area for a long time.
Downloads
Click on the images below to learn more about our range. These can also be downloaded as PDFs.
---
Where are we based?
Attwood House,
Cokeland Place,
Cradley Heath,
B64 6AN
Connect with Repose Furniture Limited