P&S Healthcare is a family run British manufacturing company that has been producing and distributing high quality garments for over 30 years. The complete P&S washable range is designed and manufactured here in the UK, ensuring the high quality and standards our range has become known for is always maintained.
The diversity of the P&S Healthcare products in our washable range offers protection to users with a variety of incontinence disorders. Our range caters for those with very light stress incontinence to high stress incontinence whilst retaining our core value: to ensure comfort and discretion for the user.
All of our products are also machine washable, allowing them to be used time and time again. This makes the our range not only cost effective but also the environmentally friendly alternative to disposables. Our briefs are all manufactured from 100% combed cotton, with a waterproof backing and a built in absorbent pad.
Tel: 01159 681 188
Email: sales@pshealthcare.org.uk
Website: www.pshealthcare.co.uk
Products
P&S also have a wide range of bedding protection available, including absorbent bed pads and fitted protective sheets in a variety of sizes.
Here at P&S we are always happy to help, if you have any enquiries please feel free to call our customer service team.
Great service, great quality product and delivered on time. Will definitely be ordering again in the future
I would like to thank you for all your help and for making my life with incontinence much easier. The variety, style and quality of your range has made choosing underwear enjoyable once more.
Downloads
Click on the images below to learn more about our washable product range. These can also be downloaded as PDFs.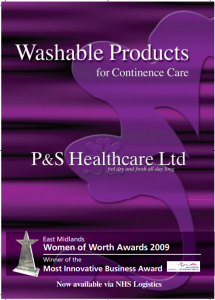 ---
Where are we based?
Edward House
King Edward Street
Hucknall
Nottingham
NG15 7JR
Join Disabled Living's Supplier Directory today!