Orkid Ideas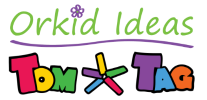 TomTag is a quick and easy way to make personalised picture schedules, timetables and checklists. No printing, laminating or Velcro required!
With kits from the TomTag 'I can do it' range, it's a breeze to make picture checklists and sequences that help a child learn valuable independent living skills such as packing their bag for school, self care routines or managing their feelings. These kits can also be a useful tool to support independent living skills for adults with dementia or memory problems.
For children who get anxious or confused about transitions, special events or what's going to happen next, a personalised visual schedule or timetable created with a kit from TomTag's 'I know what to expect' range can really help to reduce anxieties and make life less stressful.
With each kit, you'll get a number of colourful tags, blank buttons, attachment loops and symbol sticker packs. There's a huge range of symbols available and a pick and mix option too so you can choose extra bits and bobs to add to any kit or even make your own.
Address:
Popeshead Court Offices,
Peter Lane,
York,
YO1 8SU
Tel: 01904 213123
Email: info@orkidideas.com
Website: www.orkidideas.com
Connect with us