Gravelles Mobility And Lifestyle Limited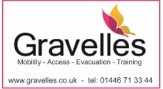 Gravelles Ltd UK wide Independent family business; with over 40 years of Disability/ Equalities experience. Specialists in the Supply, Training and Servicing of Emergency Evacuation Equipment, Moving/Handling Products, Stair Climbers, Bariatric/ Mobility Aids. Gravelles here to help!
Address:
Gravelles Ltd
26 Lon Lindys
Rhoose Point
Vale of Glamorgan
CF62 3LU
Tel: 01446713344
Email: enquiries@gravelles.co.uk
Website: www.gravelles.co.uk
Connect with us

Join our Supplier Directory today!