Care & Repair Northamptonshire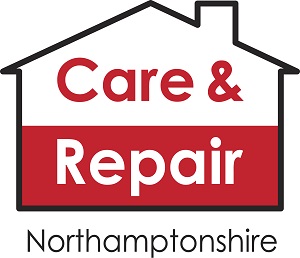 Care & Repair Northamptonshire is an independent charitable home improvement agency which carries out support works in the home to help keep vulnerable householders across Northamptonshire safe, warm and secure, regardless of tenure of property. Works carried out can promote feelings of wellbeing, dignity and choice and help enable householders to remain independent in their own homes.
Clients are vulnerable for a number of reasons, including; older age, frailty, long term mental or physical health conditions, disability, carers, families with young children, victims of crime, those living in fear of crime; those on low income or living in fuel poverty and other disadvantaged.
A comprehensive range of improvements works are carried out by our our own team of DBS checked skilled technicians including: handyman works and odd jobs; electrical, plumbing and carpentry works and repairs; home security improvements; falls prevention works including grab rails, stair rails and half steps; disability adaptations including ramps and wetrooms; home warmth improvements; child safety works; fencing and garden clearance works; bespoke works to meet specialist needs.
We are registered with Northamptonshire County Council Trading Standards 'Buy With Confidence' Scheme and have many years' excellent feedback; trust and reliability are key in providing support services to vulnerable clients.
As well as carrying out works directly on behalf of householders, we work with key agencies across the county including the Police, Community Safety Partnerships, Northants Fire & Rescue Services, Northamptonshire County Council and local district councils.
Works are either carried out on a charged for basis, with a free no obligation quotation before works commence, or funded through charitable grants (subject to availability and client eligibility).
Where are we based?
25 Tenter Road,
Moulton Park,
Northampton,
NN3 6AX
Tel: 01604 782250
Email: office@careandrepairnorthamptonshire.org.uk
Website: www.careandrepairnorthamptonshire.org.uk
Connect with Care & Repair Northamptonshire