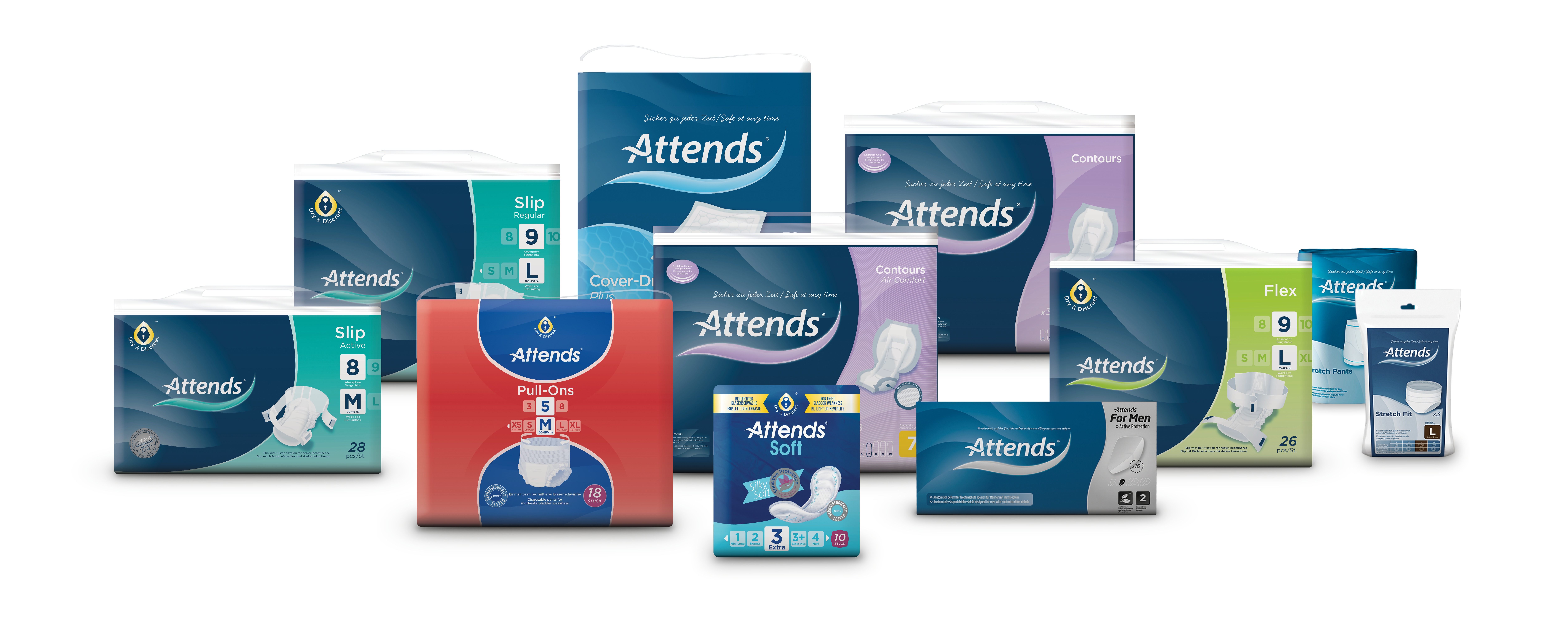 Attends (part of Domtar Personal Care) are a leading provider of continence products worldwide to consumers, retail and the NHS. The company celebrates 40 years of expertise in continence care and offers a full range of products for all levels and types of incontinence. Attends products are designed to provide outstanding leakage protection, skin dryness, odour protection and comfort.
Attends body-worn products use a simple numbering system (0-10), where 0 shows the lowest and 10 the highest level of absorbency. All our products are tested and approved for skin health by proDERM Institute for Applied Dermatological Research. Our streamlined design provides a more compressed product, resulting in more products per pack, more packs per case and less storage.
Attends ongoing support – includes product assessment tools, factsheet and fitting guides, hints and tips, product formularies, product training, digital support materials and a free e-learning interactive continence care tool. This e-learning tool has been developed by Attends in conjunction with continence nurse specialists in the UK and Ireland.
The Attends range contains continence products for adults and children in addition to nappies, procedure pads and skincare products. To place a product or sample order, receive product advice or find out more, contact us today!
Tel: 0845 601 3272
Email: attendslifestyles@attendshealthcare.com
Website: www.attendslifestyles.co.uk
Products
We have a range of products for all levels and types of incontinence
Videos
Another way to learn about our products is by watching the links below, so that you can see demonstrations of the products being used.


Product Selection



Numbering System


"I'm not afraid to go out. I'm not afraid to socialise. I can now work and through this continuous support from Attends…it gives me my life back."
Attends range of products, training and support to staff has allowed us to provide our patients with pads based on the need of the patients. When there is a sizeable change of a product range, changing the way our staff work can be very challenging but Attends have been very professional in the training they delivered to our clinical staff
Downloads
Click on the images below to learn more about our product range. These can also be downloaded as PDFs.
---
Where are we based?
Attends Ltd
10 Mariner Court,
Calder Park,
Wakefield,
WF4 3FL
Connect with us