Theraposture Limited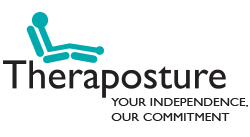 Theraposture is a privately owned, family run business based in Wiltshire that has been the leading supplier of bespoke, hand-built adjustable beds, chairs and cots since 1981.
Why choose Theraposture?
We care. We are the considered choice. We are the number one specialist for quality, tailor-made adjustable beds, chairs and care cots.
Tel: 0800 834654
Email: info@theraposture.co.uk
Website: www.theraposture.co.uk
Products
Videos
Another way to learn about Theraposture products is by watching the videos below, so that you can see demonstrations of the products being used.
Rotoflex Bed


Theraposture Mascot Care Cot


Adjustable Beds – The Sandringham


How to find the right adjustable bed


My 93 year old aunt who lives in a residential home in Liverpool, bought one of your adjustable chairs two years ago and has been highly delighted with her purchase, so much so that she is totally dependent on it.
Downloads
Click on the images below to learn more about our products. These can also be downloaded as PDFs.
Where are we based?
Kingdom Avenue
Northacre Industrial Park
Westbury
Wiltshire
BA13 4WE
Connect with us

Join Disabled Living's Supplier Directory today!