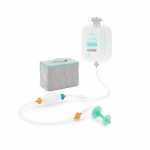 Renew Medical Inc. has researched, developed and clinically tested bowel management products including the Renew Insert for over 7 years. Established in 2015, with offices in London, Renew Medical UK is a medical device company specialising in the development and supply of bowel management products. Renew acquired Aquaflush Medical Ltd in January 2020.
Aquaflush Trans Anal Irrigation and the Renew Insert are our innovative, leading bowel management products, offering a solution that can be tailored to suit individual need. Our expanding product range also includes the Stoma Stopper.
Tel: 0800 542 0814
Email: support@renew-medical.uk
Web:www.renew-medical.uk
Videos
I believe that Renew Inserts have done for ABL what tampons did for periods. They set you free. You can wear what you like, eat what you like and do what you like, whenever you like. I look forward to things again.
After years of feeling that my life was on hold, I can plan ahead, I can travel, go on holiday. Aquaflush Systems pack up neatly into the Aquaflush washbag, a discreet cosmetics bag that can be carried in my hand luggage while travelling. It looks no different from my other toiletry bag, and it even has its own passport. The freedom and confidence Aquaflush has given me is immeasurable. It's really changed my life
---
Where are we based?
Renew Medical UK,
15 Southampton Place,
London,
WC1A 2AJ
Connect with Renew Medical