Nilaqua – "Towel Off" Personal Care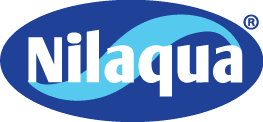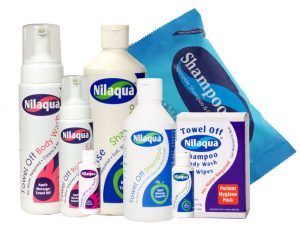 Waterless Limited manufactures unique personal care and hygiene products in the UK!
The best alternative to traditional bathing and used daily in the NHS – Nilaqua's range of "Towel Off" bathing products, allows you to wash effectively without additional water or rinsing.
Just apply directly to the area, massage to lift dirt, odours and urine into the solution and remove by towel drying. Leaving skin and hair beautifully soft and clean.
Nilaqua reduces manual handling risks, improves dignity and independence, whilst saving time and money. Please see more at www.nilaqua.co.uk
Nilaqua also offers a complimentary range of hygiene products that sanitiser hands and surfaces, again used daily in the NHS and an eco, kind alternative to traditional gels. Nilaqua alcohol free sanitiser kills up to 99.9999% of germs in just 30 seconds, with 6 hour post application protection. Heavily reducing the chances of cross contamination. Kind and gentle to skin, Nilaqua is water based, vegan friendly, cost effective and kills a huge amount of germs including C-Diff and Norovirus! Please see more at www.alcoholfreesanitiser.com
Tel: 01453 357337
Email: Sales@waterlessltd.co.uk
Website: www.nilaqua.co.uk
Products
Our products include Body Care, Foot Care, Hair Care, Patient Care Consumables, Sanitisers, Wipes and Towels and even Pet Hygiene!
Videos
Watch how our products work
Waterless Limited Brand Example


Nilaqua has been installed in our Mental Health units for nearly a year; our Trust has saved money, as well as providing an alcohol free safe product that can be used by all of our service users and their visitors. The product is eco-friendly and we have noted the difference in purchasing costs, which has decreased considerably. Hertfordshire
Partnership is purchasing a lot less product and thus producing less plastic waste, whilst protecting our staff, visitors and service users. Nilaqua Sanitiser is effective and feels good, so it actually encourages greater usage by everyone using our services.
We are expanding the installation to cover all of our estate across three counties.
I would recommend this product as a safe alternative to alcohol based sanitisers and the very supportive customer service from Waterless Limited.
I have just had ankle fusion surgery so cannot shower for several weeks.This review follows my first application of both the body wash and the shampoo.
The body wash is lovely and makes me feel clean and fresh. It is only very slightly perfumed, so perfectly suitable for both men and women, as it doesn't leave any lingering after smell. It isn't sticky and cleans off with a towel very well.
The shampoo has left my hair clean and easy to style back into my usual bob. I did find it slightly sticky in parts, but think that may be because I applied a little too much of the product in places. I have very thick hair, so thought I would need quite a lot. It certainly looks well and is smooth and soft.
I am so glad I found these products, as being incapacitated can be depressing. Being able to keep clean and sweet smelling certainly helps one to feel more normal and keep ones dignity.
Downloads
Click on the images below to learn more about our products
---
Where are we based?
Unit 25,
Hope Mills Business Centre,
Brimscombe,
Stroud,
Glos.
GL5 2SQ
Connect with us