WashPod from Dignity Access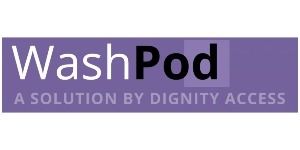 WashPod, from Dignity Access, is a fully-accessible, self-contained washroom and bathroom facility that can be swiftly, easily and economically erected inside or outside most homes. WashPod units can be installed in as little as a day, with minimum disruption and no permanent alteration to the property providing a mid-term solution to the option of prolonged hospital care or an early move to an expensive care home.
For the elderly or disabled, being able to live in your own home becomes a real issue if you no longer have access to washing and toilet facilities but this unique, new 'pod' may keep this the reality.
WashPods are either positioned externally in the garden or erected within an existing, reception or dining room that can be made available for the purpose. They are fitted to comply with part M of the building regulations and has been designed by architects who specialise in the designing for disability and endorsed by occupational therapists and case managers.
Typical facilities include accessible shower facility, basin and WC. External units include underfloor heating. Hoisting for transfer purposes can also be provided where needed
The internal external WashPod unit measures approximately 4.0m long x 2.0m wide by 2.4m high. The external envelope is made of a highly insulated material which acts as an external shell to the internal sleeve which is similar to the WashPod unit. The internal dimensions are 3.2m long x 2.0m wide by 2.1m high.
The internal WashPod unit is not insulated as it is sited within the home, erected preferably within a downstairs room. Internal WashPod units are fitted with a sliding privacy door in order to maximise room flexibility. The room configuration needs to be considered in conjunction to the accessibility needs of the client. Any additional ramps into the unit are supplied and fitted by our installation team.
WashPod units are 'plug and play' A purpose-made pump and water heater unit means that the units are connected into existing cold water supplies only and 2 domestic sockets. Access to a drain point somewhere within the house or garden is used to pump the waste through a flexible 2" pipe.
Costs can vary depending on the final specification and specific needs of an individual's circumstance. The units can be bought or rented. Please contact Lewis on 07708 173397 to discuss costs for buying a unit.
For rental purposes, the standard internal WashPod unit is £700 per month with an installation cost of £750. An external standalone unit will cost £950 a month with a typical installation of £1500.
Tracking hoists can be fitted to either the internal or external units for an additional cost.
Address
9-10 Old Stone Link
Ship Street
East Grinstead
West Sussex
RH19 4EF

Tel: 07708 173 397
Email: info@dignityaccess.co.uk
Website: www.dignityaccess.co.uk
Connect with us