C & S Seating Postural Control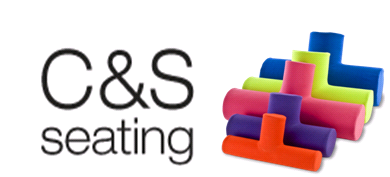 C & S Seating are proud to be the national supplier of 24 hour postural management and control products for over 25 years.
We manufacture and supply 9 different sizes of positioning rolls ranging from pediatric to adult, along with 2 sizes in our Knee Leg Support and our APS (Alternative Positioning Support).
Our new popular range of soft knit covers can be placed over our standard waterproof rolls, which are both removable and machine washable.
Ask our friendly sales advisors about our inflatable T-Rolls that are designed for short term use and ideal for holidays and as an aqua therapy aid. These fold down easily for travel.
All fabrics meet the UK Flammability Standards and carry a CE mark, members of BHTA, ISO 9001 registered and always happy to provide individual quotations for care providers.
It is highly recommended you seek professional advice in selecting the correct product and size depending on your needs. Contact us on 01424 853331 email us at info@cands-seating.co.uk to place your order or to request a brochure.   www.cands-seating.co.uk
Address:
Unit 22 Theaklen Drive, TN38 9AZ
Tel:
01424 853331
Email:
Website: